Lighting increases visibility, contributing to increased perceptions of safety and pedestrian street use after dark, and reduced opportunity for crime.
Key Terms
Pedestrian-Scale Lighting

is light fixtures that direct light at typical human heights rather than from above. Examples may include grounded lights that direct light upwards, lighting placed at human-height level along building exteriors, and human-height pole, bollard, and lamp lighting.
Strategy Insights
Only pedestrian building entrances are relevant for this strategy and the documentation does

not

need to include photographs showing well-illuminated car entrances.

Lighting must be

exterior-sourced

lighting, not lighting illuminating from the inside of the building. The intent for this is to provide visibility for pedestrians, contributing to increased perceptions of safety and pedestrian street use after dark, as well as reduced opportunity for crime.

Municipal-provided lighting qualifies as a source of lighting.

For Workplace scorecards, appropriate distributed illumination must be provided at all entrances, including pedestrian entrances to the building from indoor parking areas.

Retail entrances, which are those that lead into leased commercial/retail spaces, are excluded from this strategy, for the Workplace Scorecards or Residential Scorecards.

Outdoor lighting using motion sensors qualifies for this strategy.
Documentation Guidance
Nighttime photographs are preferred in order to demonstrate even illumination. However, daytime photographs may be submitted provided they are annotated and accompanied by a lighting plan confirming even illumination.
Sample Documentation
The documentation is an example of how to document exterior-sourced lighting placement at building entrances (lighting that is located outside of building entrances), as required. Note that qualifying documentation must be provided for each and every building entrance, including secondary entrances, service entrances and building entrances from all indoor parking levels, if applicable.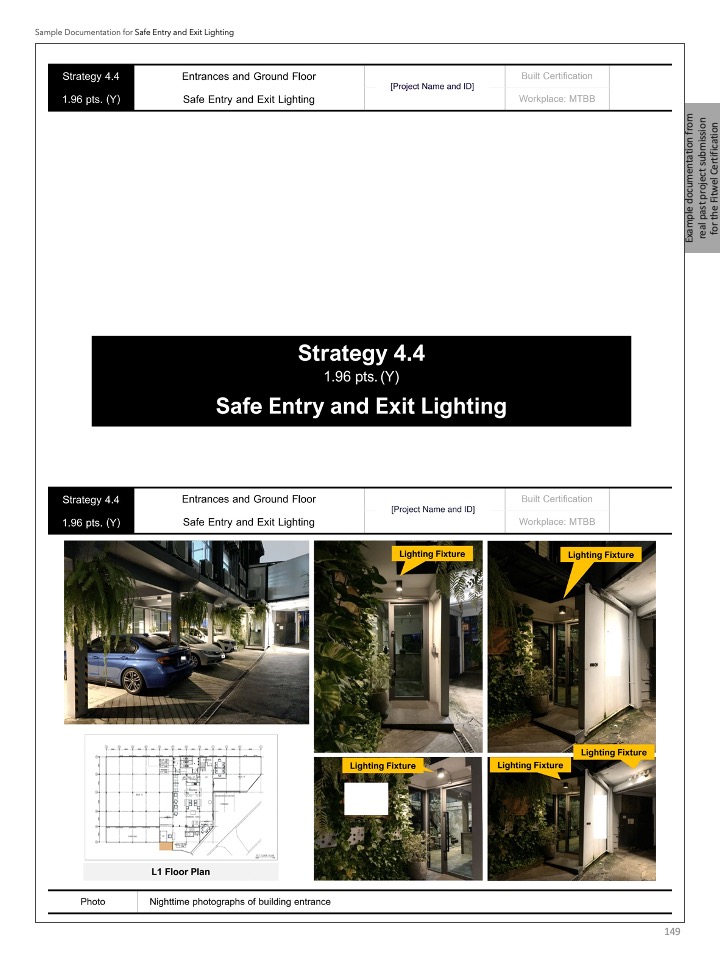 Documentation credit to Africus co., ltd.
Recently Viewed