Incentivizing transit can encourage occupants to use active modes of transportation, increase equity for those who cannot drive or afford private vehicle use, and reduce congestion and air pollution.
Key Terms
Transit

is defined as a shared passenger transportation service, such as buses, trams, light rail, trains, subways, ferries, private buses, and carpools that run at scheduled times and are available for use by the general public.

Transit Benefits

are a permanent and regularly occurring subsidy, financial incentive, or other program that encourages the daily use of public transit.

A

Transit Stop

is an area where individuals access public transportation.

Fair market rate parking

is the unsubsidized cost associated with daily, weekly, monthly, and/or yearly parking rates in a given market/geography.
Strategy Insights
This strategy focuses on incentivizing access to shared/public transit in order to equalize the opportunity for commutes to work by alternative methods.
For projects pursuing full credit (Yes):
The strategy requirements language does not include an exhaustive list of eligible programs/examples. Projects that offer a transit incentive program not listed may submit their benefit program for consideration, provided that a detailed description of the method and benefits are included.
Programs that also provide and/or pay for automobile parking do not qualify.
Programs that reimburse, subsidize, or otherwise encourage the use of individual bicycle use do not qualify for this strategy, as this strategy is focused on incentivizing shared transit use. Bicycle transit is covered under different strategies within the Fitwel standard.
Ride-sharing modes, in which a customer(s) uses an online app to arrange a trip from point A to point B, do not qualify. Qualifying transit must run on a published schedule.
For Multi-tenant Whole Building (MTWB) projects, transit incentives must only be provided for occupants of owner-owned/managed areas (e.g., base building staff). For all tenant occupants, projects must demonstrate that fair market rate parking is required in order to comply. Parking made available at no cost to tenant occupants, in any quantity within the project, disqualifies eligibility for this strategy.
For projects pursuing partial credit (Alternative Compliance):
Similarly, if pursuing the Alternative Compliance pathway, fair market rate parking must be provided for all building occupants–tenants and base building occupants. Any amount of free parking made available to occupants disqualifies eligibility for this strategy.
However, encouraging the use of transit by reimbursing or discounting parking or that is used only for transit or commuter parking lots can qualify.
Documentation Guidance
For the Built Pathway, please submit a copy of the transit benefits rather than a summary within a statement.
Sample Documentation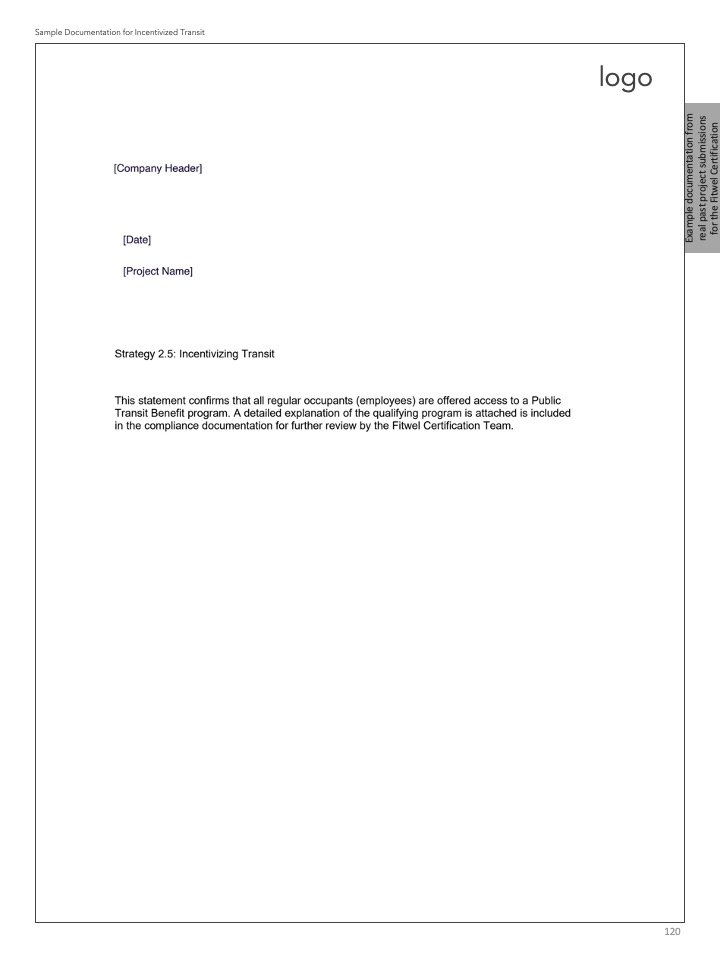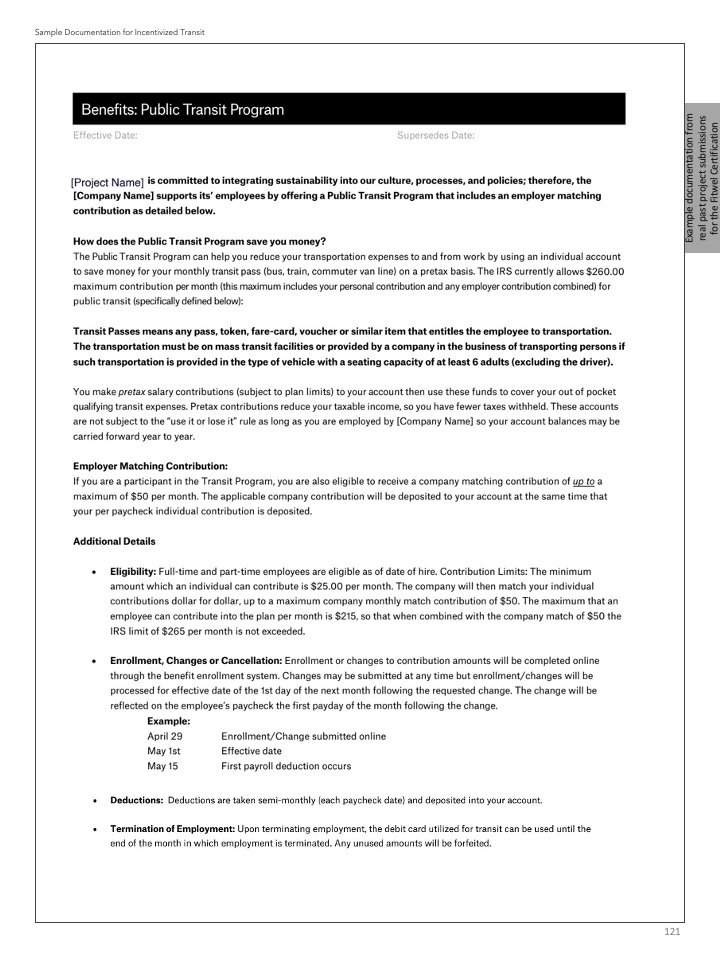 Documentation credit to Gresham Smith
Recently Viewed