A current schedule for on-site certified first responders can decrease response time during emergencies, contributing to diminished casualties and decreased employee absenteeism.
Key Terms
A

Certified First Responder (CFR)

is any individual who completed a training course and received certification in providing support in medical emergencies. Sample support may include first aid or cardiopulmonary resuscitation (CPR). Individuals may become a certified first responder by completing the First Aid or CPR courses offered by the Red Cross, American Heart Association, or international equivalent.
Strategy Insights
The primary purpose of this strategy is to ensure that, in the event of an emergency, individuals who are trained in emergency response are on site and available to provide aid.
To calculate the appropriate number of required Certified First Responder(s), the total number of regular occupants should be rounded

up

to the nearest hundred.

Fitwel requires that there be at least one CFR for every interval of one hundred (100) occupants. (For example, if a project has 415 regular occupants, at least five CFRs must be designated, with the fifth person accounting for the 15 individuals over 400.)
Documentation Guidance
Documentation submitted must confirm that all designated Certified First Responders (CFR) are full-time employees or include full details to ensure the relevant number of full-time equivalent CFRs by showing individuals' work schedules.

The statement must also include a

calculation

confirming that the minimum qualifying ratio of CFRs to regular occupants is provided on site.
Sample Documentation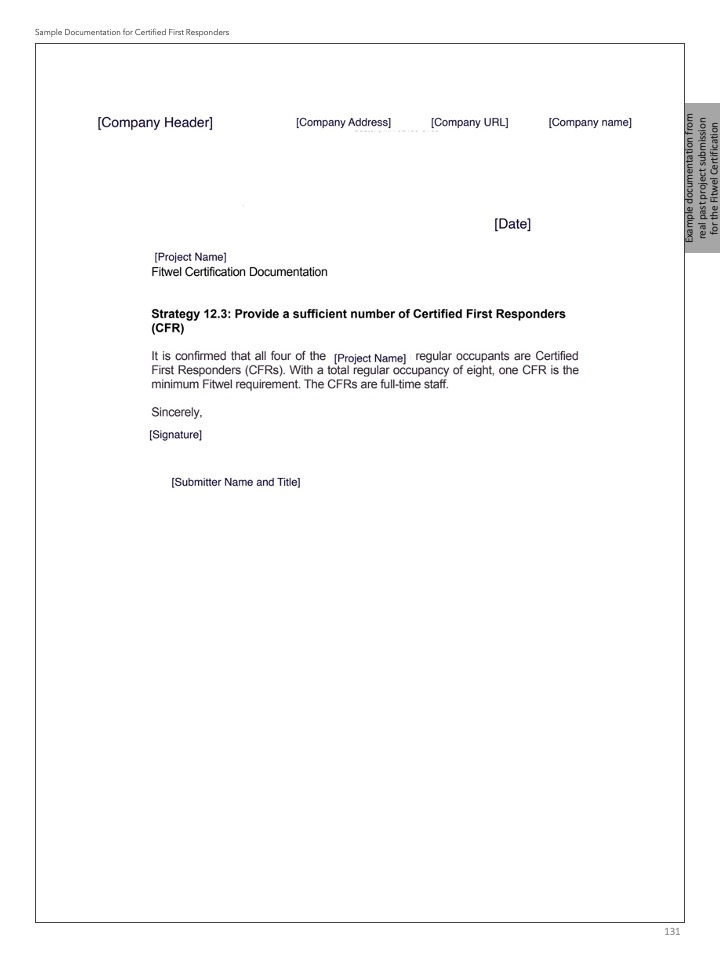 Documentation credit to Boston Properties
Recently Viewed