A walking trail provides occupants with increased exposure to the outdoors, encourages physical activity, and promotes social interaction, all of which contribute to enhanced physical and mental health.
Key Terms
A Walking Trail

is a path, separated from motor vehicle right-of-way, where individuals can walk and enjoy nature.
Strategy Insights
The intent is to show a trail surrounded by nature, which includes natural elements such as trees, vegetation or water bodies. A path alongside a roadway, therefore, cannot qualify.

A walking trail is required to be

uninterrupted and not intersected by vehicular traffic and roadways for at least 1/4 mile or 400 meters.

Municipal sidewalks, and specifically those adjacent to or alongside vehicular traffic, do not qualify for this strategy.

Bicycling trails intended for cycling use only do not qualify. However, multi-use trails (or "greenways") may qualify provided that they are not open to vehicular traffic, and if intended for both pedestrian and cyclist use, that pedestrian lane(s) either be physically separated or demarcated or that signage be posted alerting users to cyclists' use.

If a walking trail exists as a loop, documentation must demonstrate that it is at least ¼-mile or 400-meters per lap, and meets all other design and operational requirements.

The walking trail must be accessible within a maximum walking distance from a project's main entrance of ½ mile or 800 meters. Longer distances or trails that are accessible by bike, car or shuttle that are outside the maximum walking distance do not qualify.
Documentation Guidance
If the pathway is interrupted by a roadway, please annotate the map to show that the path continues for at least ¼ mile or 400 meters before meeting the roadway.
Include photographs that show the view and context of natural surroundings from the perspective on the walking trail.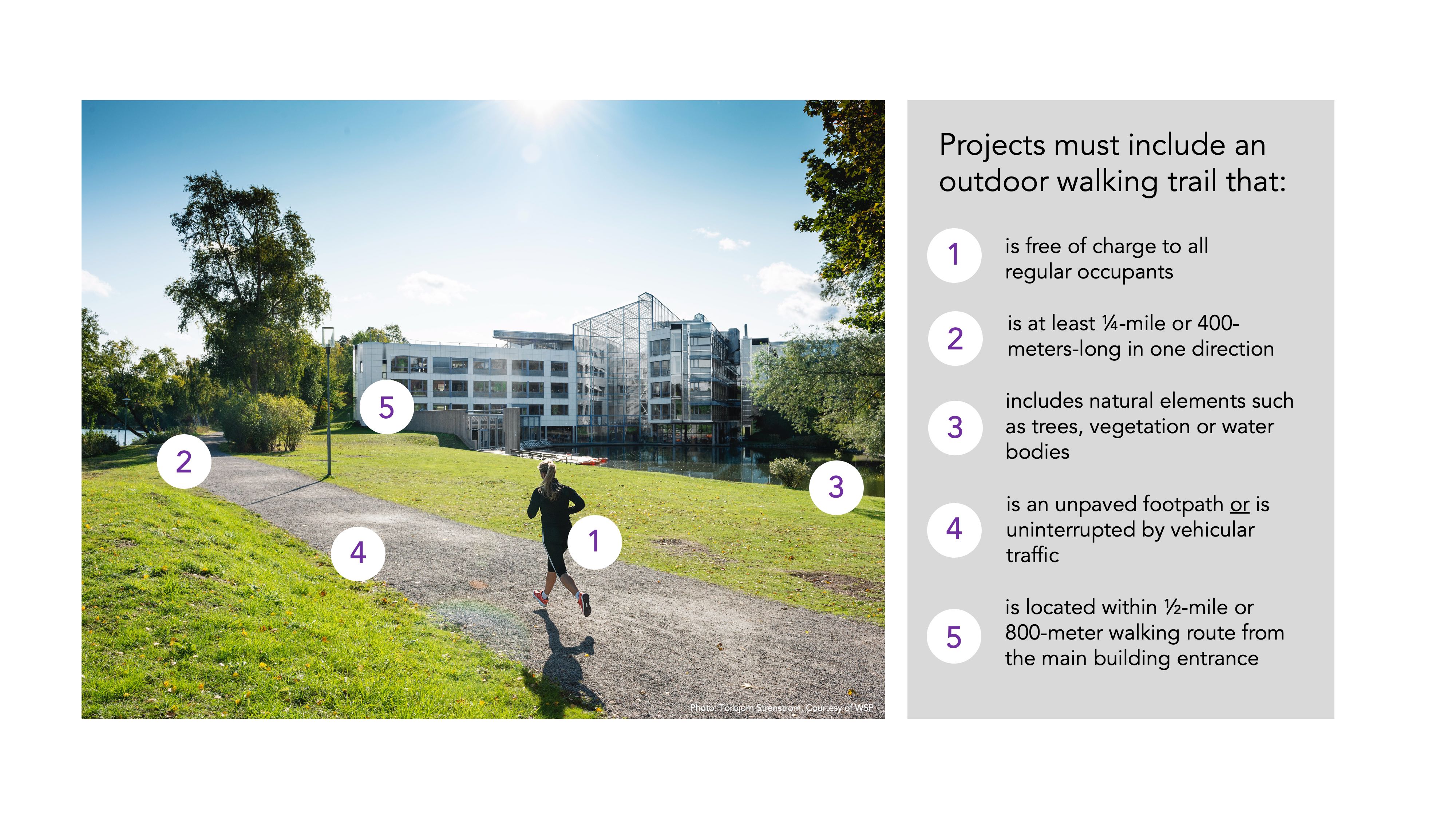 Recently Viewed