Universally accessible potable water improves regular hydration and can decrease consumption of sugar-sweetened beverages, contributing to improved dietary habits.
Key Terms
Universally Accessible

refers to spaces and features that are designed and constructed in a manner that provides ready access to and use by individuals with disabilities.

An Accessible Water Supply

is any water fountain, tap water device, or stand-alone dispenser that provides access to potable water (clean water that is adequate for drinking and consumption) and that meets a qualifying accessibility standard.
Strategy Insights
Qualifying water supplies must be designed and installed to meet universally accessible circulation, height, and clearance requirements:

Fitwel outlines accessibility requirements as defined by the Americans with Disabilities Act (ADA) in the United States, or the global standard, ISO 21542: 2011 requirements for Building Construction, Accessibility, and Usability of the Building Environment.

Standards that are not listed under the strategy requirements may not qualify unless the project is able to submit documentation showing how the requirements to achieve the standard credit are as rigorous as the criteria listed under the Fitwel requirements

.

In lieu of potable water piped directly through a building water supply, standalone large-format water dispensers (commonly referred to as "water coolers") may qualify provided that they meet all accessibility requirements.

Bathroom taps/sinks do not qualify for this strategy.

For Workplace projects, outdoor common areas, such as rooftops, balconies, and/or terraces, may be excluded when identifying "shared common area(s)" within a project boundary for this strategy.

However, w

hen using the Multifamily Residential (MFR) scorecard, Fitwel requires a qualifying water supply be in proximity to all common areas, including outdoor common areas.

Not all drinking water supplies are required to be connected to the main building water source.
Under the workplace scorecards Multi-tenant Base Building (MTBB) and Multi-Tenant Whole Building (MTWB) scorecards, regularly occupied floors include those with workspaces and common spaces used by on-site building staff such as receptionists, security, engineers, etc. even if they are third-party employees. These floors must include a qualifying water supply.
Documentation Guidance
If more than one type/model of water supply is provided in the project, clearly label annotated floor plans to confirm the design used at each location and confirm that at least one universally accessible water supply is located at each relevant location/floor.
Sample Documentation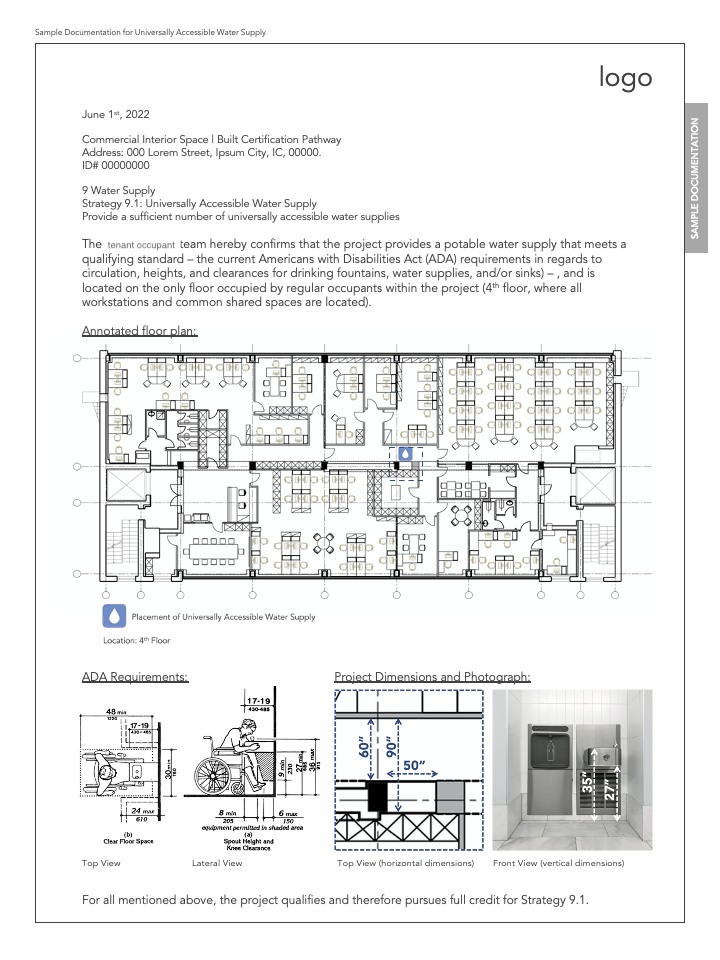 Recently Viewed