A farmers market can increase access to healthy food, promote nutritious eating among occupants, and support enhanced social interaction.
Key Terms
A Farmers Market

is a market at which farmers and/or produce vendors sell fruits, vegetables and sometimes meat, cheese, and bakery products directly to consumers.
Strategy Insights
A qualifying farmers market may be located offsite, provided it meets all distance and operational requirements outlined in the strategy language.

Farmers markets are not required to be outdoors; an indoor market that meets strategy requirements will also qualify.

Farmers markets must include at least one produce item (fruit or vegetable).

For Workplace scorecards, if a project shows a farmers market that operates on Saturday or Sunday, it must confirm that it operates during workplace hours.

Fitwel only accepts farmers markets that sell produce directly from farmers to consumers:

Conventional grocery stores and markets

do

not

qualify for this strategy.

Community Supported Agriculture (CSAs) drop-off and virtual farmers markets

do

not

qualify for this strategy.

Farm stalls/stores may comply only if projects share in their official statement additional information regarding the procurement of the produce and how they meet the intent of a farmers market with producers selling directly to consumers.
Sample Documentation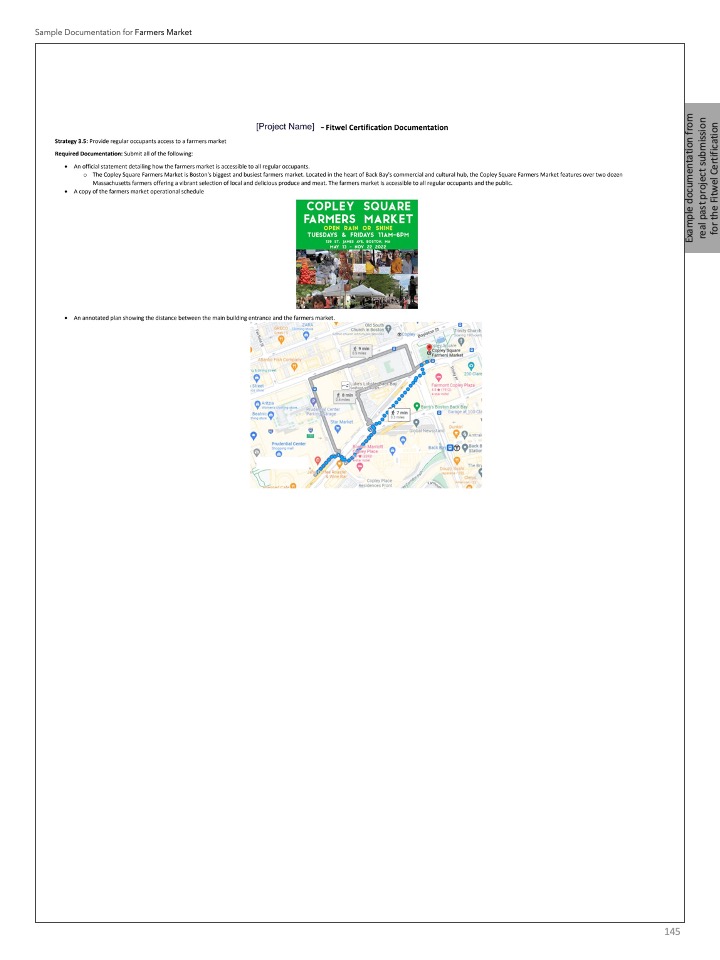 Documentation credit to Boston Properties
Recently Viewed