Outdoor space amenities, such as plazas and garden spaces, increase opportunities for social interaction, physical activity, and exposure to daylight, contributing to enhanced physical and mental health.
Key Terms
An

Outdoor Space Amenity

is a space exterior to the building that is equipped with paths, water features, or outdoor furniture such as seating areas or tables that improve comfort and encourage use of the outdoors by building occupants.
Strategy Insights
An outdoor space amenity ("the space") may adjoin or be adjacent to the building submitting for certification, or may be located off site, provided it is within qualifying distance.

The space may be natural (e.g. landscaped with natural ground cover), constructed (e.g. with tiles, bricks, or cement), or both.

A single outdoor space amenity may qualify for all strategies in Section 3: Outdoor Spaces, provided that it presents all qualifying requirements for each strategy and that, where necessary, spaces are separated. For example, an outdoor fitness area may not also qualify as a restorative garden. However, an off site park in which both spaces are included may qualify.

Swimming pools do not qualify as a "water feature" in this context. To qualify, the water feature should be for visual and passive enjoyment only.
For projects pursuing Senior Housing certification, there are three additional requirements to meet in order to achieve credit for this strategy:
the space must include a minimum of one permanently installed feature that provides opportunities for social engagement (such as an art installation, water feature (note, swimming pools do not qualify), outdoor firepit, or outdoor games);

the space must be located away from congested roadways; and

in addition to seating, the space must also include tables.
Documentation Guidance
When using equivalent standards to confirm compliance, the documentation must include official confirmation that the corresponding score/credit was awarded. Standards checklists, submissions that are still under analysis or certificates that do not show the specific equivalent credit may not qualify.

Comparable certification standards that are not listed within the strategy requirements may be accepted, provided that the documentation submitted confirms the standard achieved is as rigorous as-or-more stringent than Fitwel requirements.
Sample Documentation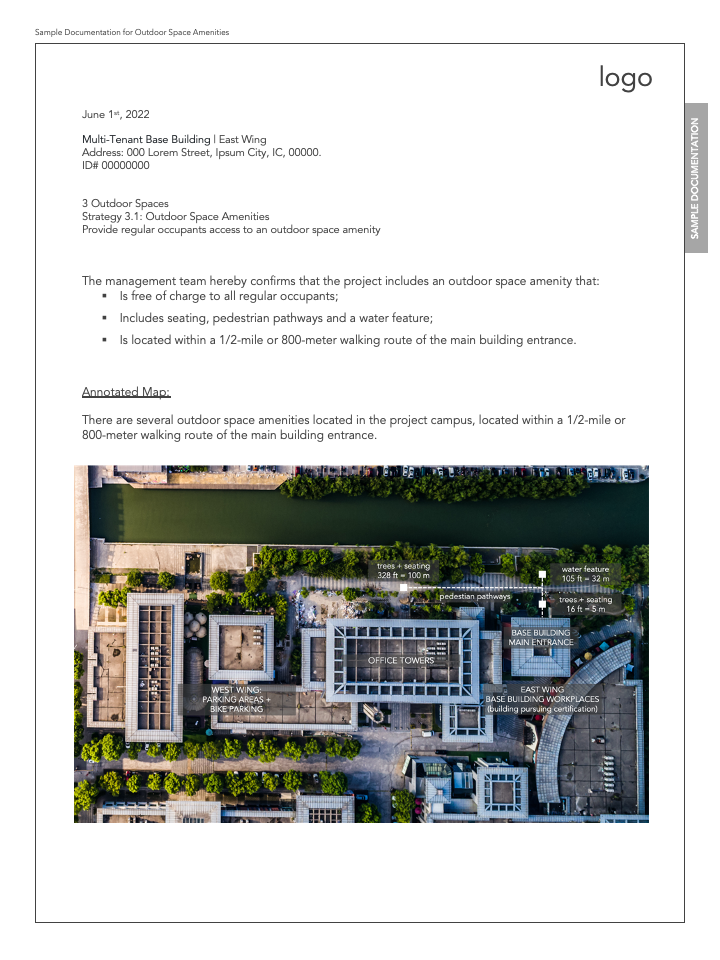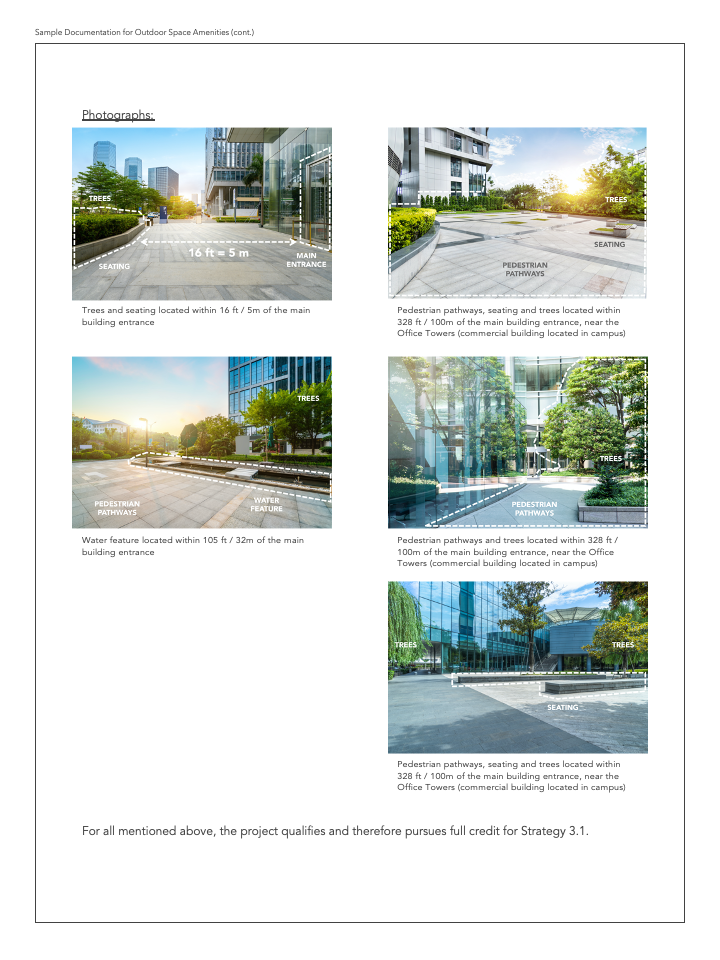 Recently Viewed