Chemical storage ventilation ensures that harmful chemicals and cleaning products are either properly exhausted separately, or are eliminated within a project and replaced with ecologically safe alternatives. Doing so reduces the risk of occupant exposure to dangerous pollutants, improving indoor air quality and contributing to enhanced respiratory and mental health.
Key Terms
An Area with Chemical Use or Storage is a space that must have separate ventilation systems to prevent the circulation of chemical pollutants in indoor air, including garages, janitors' closets, laundry areas, science laboratories, art rooms, workshops, salons, and high volume copy rooms.
Chemical refers to any product that contains substances, preparations, or mixtures of substances which may be used or stored within the project. This includes not only cleaning products and solvents, but also paint, printing fluids/inks, maintenance fluids, media coatings, and all other chemicals.
Separate source ventilation system refers to ventilation that is separate from a building's main ventilation system in order to completely prevent the circulation of chemical pollutants into the air that regular occupants breathe.
Strategy Insights
A window alone does not qualify as separate source ventilation, even if it ventilates to the exterior. Windows do not actively exhaust potentially harmful fumes and toxins, nor do they prevent the drafting of fumes and toxins back into a primary ventilation system.

If not able to demonstrate providing separate source ventilation for areas with chemical store or use, you may choose to demonstrate that all stored products and supplies comply with one of Fitwel's listed ecological standards. Standards not enumerated in the strategy requirements do not qualify.

If a project stores or uses chemicals in a completely detached structure, such as an unoccupied garage and/or shed, this may qualify provided the project team can clearly demonstrate that there is no ventilation linkage between the structure and any other occupied building within the project boundary.
Documentation Guidance
An annotated plan is not required if the project does not include any on-site areas with chemical use or storage. Instead, in this instance, an official statement confirming such will suffice.

Otherwise, if the project does include any area(s) with chemical use or storage, the project team must submit an annotated plan; however, on the plan, the mechanical drawings and/or ventilation system details do not need to be included. Identifying the areas with chemical use or storage and an accompanying annotation or narrative describing the separate source ventilation method will suffice.
Sample Documentation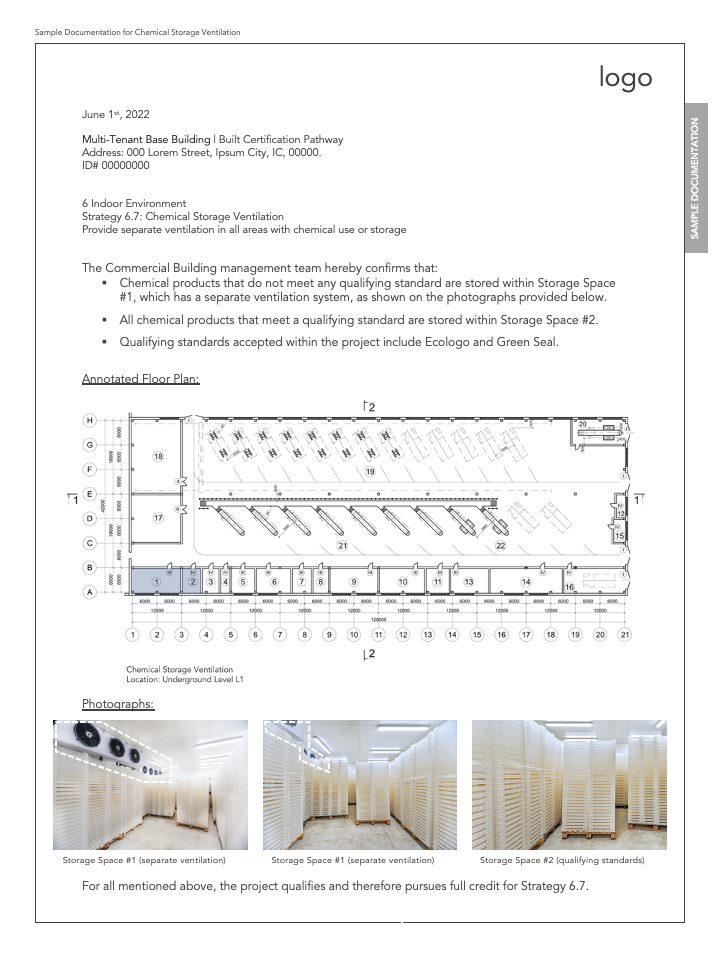 Recently Viewed