Health programming increases access to education and activities designed to improve occupant health, and provides additional opportunities for social engagement among occupants.
Key Terms
Health Promotion Programming (or Health Programming) is defined as any program, including events, workshops, and classes, that promotes and encourages healthy behaviors.
Strategy Insights
All programming must be made available to regular occupants at no cost. For example, if the project demonstrates providing group fitness classes in an on- or off-site fitness center, regular occupants must have access to the fitness center

and

the classes free of charge.

Programming should be structured for group activities and made available at a specific time.

Projects must offer the required number of unique programming categories each month, all year round. For example, individual and/or on-demand programming, such as individual mental health counseling and/or access to a meditation app do not qualify.

Programming must take place in one of the required spaces on-site or within the required walking distance.
Documentation Guidance
The detailed summary and schedule of the implemented health programming initiative must show more than a simple list of activities. It should include the type of program offered, scheduled time, and specific location that is in a qualifying space on-site or within the required walking distance.

There are multiple ways to show the qualifying schedule, which may include one of the following:

A sample of a typical monthly schedule if the events are the same each month, year-round; or

A seasonal schedule instead of a monthly schedule if the events change from month to month. For example, a typical monthly schedule may be representative of multiple months, such as January through March, or October through December, particularly if programming is seasonal and/or is on rotation per quarter; or

A month-to-month schedule if the programming changes each month, but is offered year-round.
Sample Documentation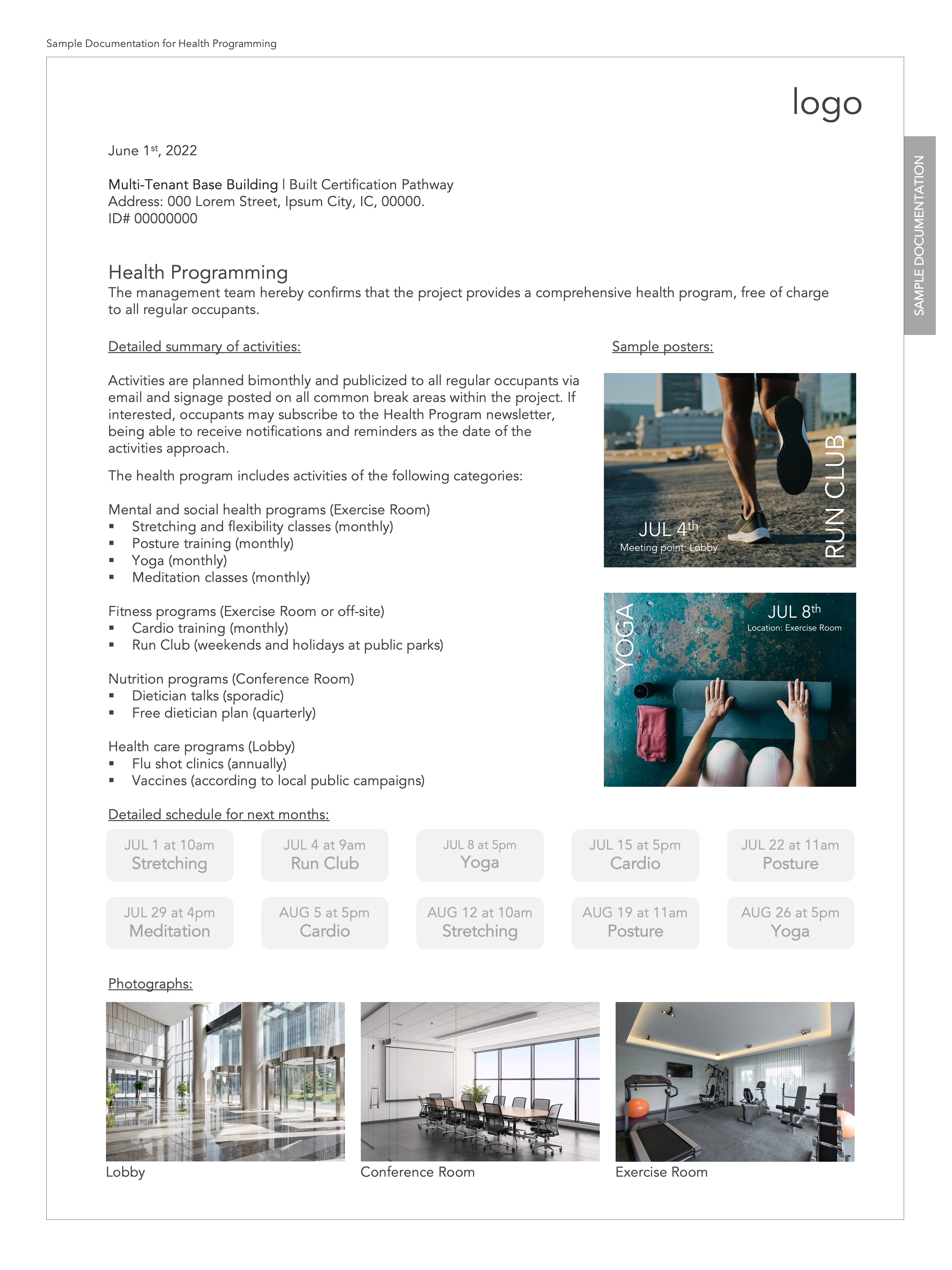 Recently Viewed